Interview with Trevor Parham, Founder of Oakstop, an Oakland-based co-working space that centers communities of color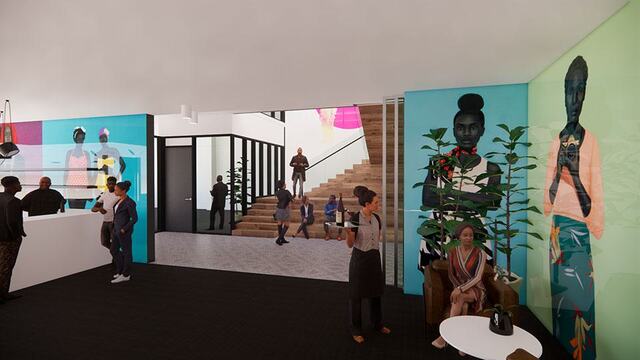 Oakstop entrance and central staircase
Trevor Parham is an artist, entrepreneur, investor, and founder of Oakstop, a Black-owned, Oakland-based, community-powered ecosystem of co-working and event spaces for entrepreneurs and communities of color. He is also a co-founder of the Oakland Black Business Fund, an investment platform focused on empowering Black businesses with capital, technical assistance, and growth strategies, which is how Trevor first met Craig Rice, a Senior Associate in SERA's Oakland office.
Craig applied to volunteer to provide pro bono design services for businesses associated with the Fund. Initially, Trevor told Craig that most of the businesses in the Fund had a "smaller footprint" and "just weren't at the place where architectural designs were a possibility," but then "a lightbulb went off." Trevor told Craig, "Actually, my business, Oakstop, has redesign needs right now, and that would be a great project for us to talk about."
We interviewed Trevor to learn more about SERA's proposed redesign and how Oakstop's coworking facilities are building a stronger community for BIPOC entrepreneurs and artists.
SERA: What were the design challenges you wanted Craig and his colleagues at SERA to address for Oakstop?
Trevor: SERA helped us with a design for tenant improvements at our original co-working space at 1721 Broadway, which is a 4,000-square-foot suite on the second floor of our building.
We were ultimately looking for more private offices to be built inside of our co-working area, because–especially with the pandemic—we were seeing far more interest in private offices. It also would be an effective way for us to stabilize revenue for the business. That was the primary objective and functional piece.
On the form side of things, we wanted to give the overall space a facelift. There were some basic aspects to the aesthetics and layout of the space that made it less attractive within the context of modern co-working spaces. The building had an older office look. It really resembled a single-tenant office occupancy.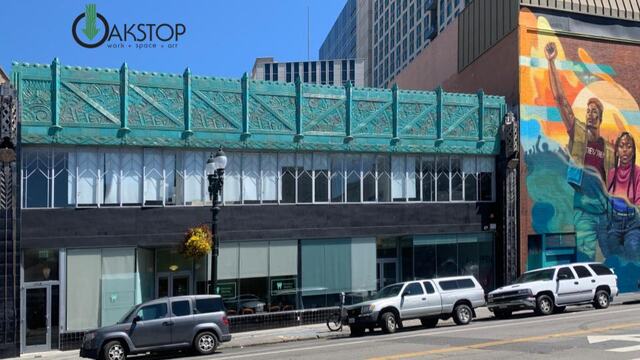 Oakstop's historic home near Oakland's civic center
**SERA: Can you tell us about Oakstop's business model and how your approach to co-working builds and strengthens the community? **
Trevor: The community that we are serving is at a really interesting juncture right now. The Oakland real estate market is one of the most expensive in the country. As a result, a lot of communities and entrepreneurs of color are being either pushed out of their professional commercial spaces or pushed out of their residential spaces. So, a big part of what we are trying to do with our work overall is to be able to secure commercial real estate for the benefit of Black or Brown communities being able to avoid displacement.
Avoiding displacement can look like one of two things. One is if somebody wants to be able to work in downtown Oakland, in the central business district, they can do so via coworking. That's the first piece, just simply anchoring businesses with a commercial presence in Oakland.
The other side of it is for people who actually are being displaced from Oakland residentially but would still like to stay connected and plugged in to the economic opportunities in Oakland by having a co-working space that is still right there in that central business district.
We do serve people from all backgrounds, but we prioritize and center communities of color, with a focus on also trying to create more opportunities for them through the ecosystem that we are building of other entrepreneurs, organizations, and activists here in the area.
**SERA: You've talked about the importance of having spaces that are designed "by and for the community." Tell us more about that. **
**Trevor: **The impression we're creating is that this is a space that doesn't just belong to one single person or one single entity. By doing that, you create a sense of shared ownership over the space. And I think that's the greatest way for people to feel a sense of ownership, because they're coming together around the idea that it isn't a zero-sum game, but instead, it's an opportunity for people to rejoice in the fact that they are all equally able to access the space, and also all equally invested in what happens there.
Community buy-in with a project like this creates leverage economically and financially for the business to then be able to purchase the real estate and then have true financial and legal ownership of these buildings. The cash flows that are coming from a large volume of people from the community, which then allows the building and the operating entity to show the financial performance that can then be leveraged with an investor.
The amount we are able to generate with this building may be higher than the income that would otherwise come from a market-rate tenant. That then can be leveraged to get financing to purchase a building, and now that purchase has been done because of that community buy-in.
SERA: What was your experience working with Craig? How did he help you reimagine the space?
Trevor: Craig did a full design, and SERA even created an incredible video that gave us the sense of a walk-through, of what that experience would be like. I think that was what I liked about it most—not just that he and SERA explored design possibilities, but also that they tried to make it very real for us in a way that was comfortably disorienting, in that we couldn't even recognize it as our own building. The design changed how you enter the building, where the staircase is, and how people respond to the overall experience as they come into the building.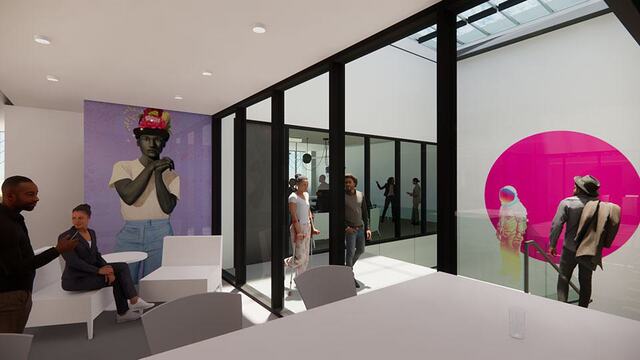 Meeting and coworking spaces at Oakstop
SERA changed the entry experience on the ground floor. You come into, not just a waiting room, but something that feels like the entry of a large museum with an open community gathering area with art and a place for people to sit and drink coffee and that sort of thing.
From there, you climb the stairs and enter into an area that, instead of being walled off, is all open with glass walls. You see the vibrancy of the building. It helped me to reimagine what our brands could be, based on these design changes.
And again, we are going from a multi tenant office building, designed for everything to be separated and isolated, to a single occupancy, community-oriented, multipurpose building, and so it totally changes the way in which you are going to approach the experience. I love what they did, and I think it gave me a lot to chew on, in terms of how we could transform our business overall with these types of design changes.
SERA: Is there anything else you would like to say about your experience with Craig and the team at SERA?
Trevor: From the moment I moved in here eight years ago, I have been thinking about ways to redesign the space, and frankly, I didn't have the resources or the expertise or capacity at my disposal to really explore that.
A lot of what SERA brought to the table was the ability for us to start to make progress on something that has been a desire for a long time now. And it wasn't just the resources piece–it was also the drive and the interest to say, "Let's explore this, let's take a look. There's a lot of potential here," with somebody who can lead that charge who has the insights and expertise to know what it truly could be.
In terms of working with SERA, they really did guide us through the entire process, not just from an architectural perspective but also just from a motivational perspective. It was a project that otherwise we might not have pursued in the same way if we didn't have somebody who was as active and engaged as Craig has been.
I often work with certain vendors where I'm having to constantly pull their coattails, remind them that they're working on my projects, and really push to feel like I'm getting the basics, whereas in this scenario, it was the exact opposite. Craig was pulling us along, to show us what it looks like to go above and beyond.