Q&A With Natasha Koiv: Principal for 36 Years, retiring in 2022
Natasha Koiv, a Principal in SERA's Portland office, recently announced her retirement after nearly 36 years with the firm. Natasha began her career as a member of the interiors team. After about 15 years, she made a move to SERA's public practice, and then about eight years ago, she transitioned to become SERA's director of staffing.
We sat down with Natasha to gather her reflections about her career, her plans for retirement, and her thoughts on SERA's future.
Why did you choose to pursue a career in architecture?
As a kid, I always gravitated toward design, but I'm not an artsy, super-creative person. I liked the pragmatic aspects of the field.
I grew up in a small town in Washington, and at the time, not very many women were going into the profession. It took me until I was a senior to get up the courage to take a drafting class in high school, so it was me and a bunch of freshman boys in that drafting class.
I went to the University of Washington, and I loved architecture, so I stayed with it. I did take a break in the middle of architecture school and got a degree in psychology as well. I laugh sometimes and say, yeah, I use my psychology more than I use my architecture degree.
What attracted you to SERA, and what was the firm like at that time?
I had been working at another firm, and I really enjoyed the design opportunities, but the one part that I didn't like was this distinction between departments. A project would go through the architectural design department, it would get handed off to a documentation team, and then finally get handed to an interiors team. Even back then, it really felt to me like design is better if it's a more integrated process.
Fortunately, I found that to be exactly the kind of approach to projects at SERA.
One of the hallmarks of the firm when I joined was a strong tie to the community, and that's primarily because of our founder Bing Sheldon. He was involved in all aspects of the community, from the city planning aspect to social responsibility causes. He was very much an active voice in those conversations with the political framework of the city and also very involved in social justice and community activities.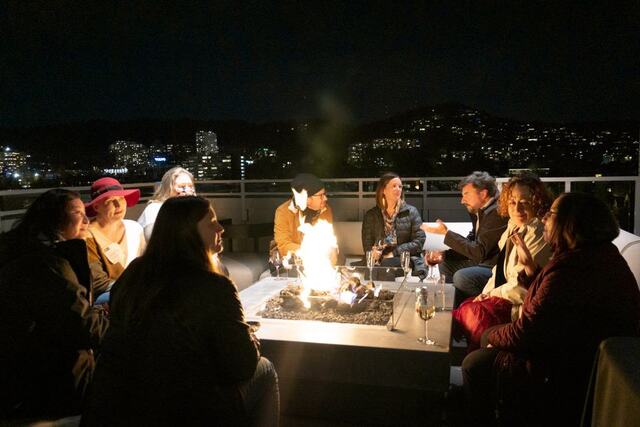 Natasha (far right) sharing stories with staff at her retirement celebration.
And how would you describe it today? How has it evolved?
Today, sustainability and climate change are much more a part of what, hopefully, everyone knows and understands. I would say we used to be on a leading edge, and now I think we are stronger, but thankfully, society is catching up. A lot of other firms have become experts, so we looked for other ways to advance in that area.
Social justice and equity are much more of a conversation today than they were. There's another level of engagement along the spectrum of concern for the community, concern for the world, how the built environment has an impact on these things, and what we can we do as designers, architects, and partners with builders to influence that.
The other thing that influences our thinking is that we are an ESOP. I think it impacts how the entire firm thinks about things. Everyone knows that they are part of a bigger whole and that the work they do and the decisions they make and the contributions they put into their work are there to support the whole firm and everyone within it.
I would say that one of the issues that the firm has struggled with through the years is customer service versus design, and it continues to be a struggle. The firm doesn't have one design aesthetic. We are very much contextual in terms of our response for design, and it's about the people who are going to be using the building and how they're going to use it. We've done some market surveys, and clients say, "We love working with your people. The reason we come back to SERA is your people."
What are you going to miss the most, and what are you going to miss the least?
When I was practicing more on the market side of things and trying to pursue projects in the public sector, it was very challenging. With private clients you can develop a long-term relationship with them—you're doing a great job, they value you, you know they're going to keep coming back to you. But on the public side, clients are almost forced to spread the work around, and so on the business development side of marketing, winning projects, is very tough.
But I do miss working with the clients. That's one of the things I loved when I was working on projects. Every project is different, and every team is different. You develop great working relationships with people and great friendships and because every project is different, you got to learn something about them.
Any plans for your retirement?
Well, I have a couple of projects I'm going to do for SERA after I retire, things that I've been talking about for a few years. But mostly, I have two adorable granddaughters that live close by, so I look forward to spending more time with them. I'm hoping to volunteer at their school, helping kids with reading. I plan to volunteer at the food bank too. I also have some projects—minor remodeling around the house—so that will keep me busy for a while.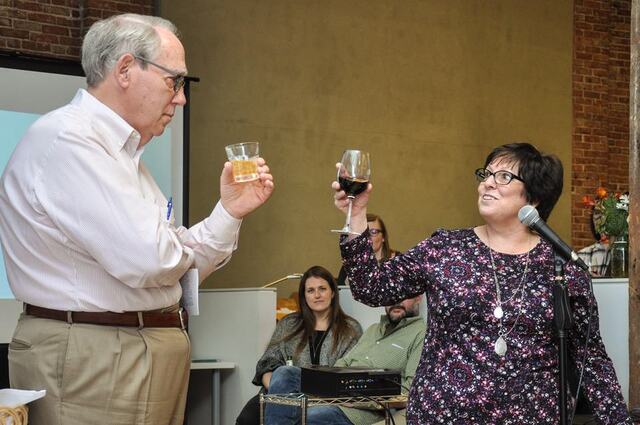 Natasha toasting Don Eggleston at his retirement celebration in 2016.
Any thoughts for the current and next generation at SERA?
I work with some of the smartest and most passionate people in the design profession, and they are so driven about doing good for the future that it permeates everything we do as a firm.
By now, we know that not every project offers the exact opportunities we want, and not every project provides deep experience with sustainability and other issues we are passionate about. Instead, we have to meet clients where they're at and then try to move them on the issues.
For some clients, you're going to move them a little bit, and others you're going to move a lot, but I think everyone at SERA continues to bring that desire and passion in everything we do—whether it's a decision about how we operate, a decision about what our projects are doing, or what we as a firm can do to influence the community.
Clients know that when they come to SERA, they're going to get sustainable design thinking regardless of whether they ask for it. It's just interwoven in how we think and how we approach projects.
I also want to recognize and continue to encourage our work around diversity, inclusion, mentoring, and recruiting. Diversity—or lack thereof—is a major issue facing the design industry, and SERA is taking a lot of steps and implementing measures to move forward as a firm and to advance a more diverse, equitable industry.