Resilience Hubs: Design solutions that help communities flourish
Where would you go for support during an emergency?
Imagine that because of wildfire, earthquake, extreme weather, or some other disruption, your home can't provide the basics that you need to survive—food, clean air and water, power, or shelter. Think about your neighborhood—where and how would you find these basic human services, at a time when communication is difficult and confusing? These are the moments when you need emotional support and connection with your community, who may be sharing your experience of crisis and grief. Where would you go to find that support?
This is a question that more and more people around the world are facing, including the community of Greenville, a small town in Northern California that SERA's resilience planners have been working with on a resilience and recovery effort.
Greenville was decimated by the 2020 Dixie Fire. The heroic efforts of firefighters managed to preserve the high school and a few key structures, but other than that, the once-idyllic mountain town in the Sierra Nevadas was left in ashes.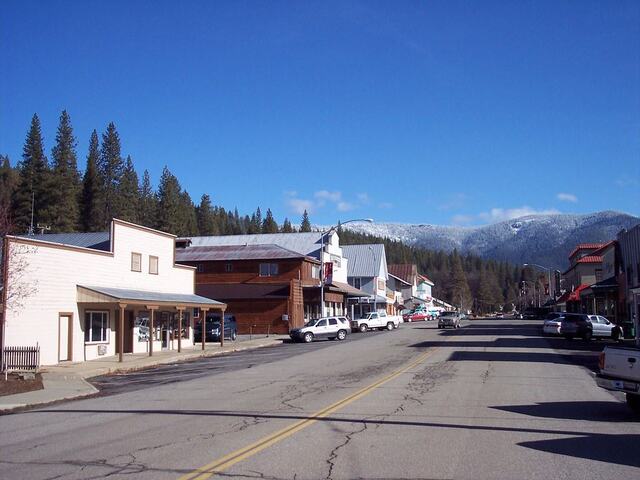 The once-idyllic town of Greenville, CA | photo credit: Jeff Titcomb, Creative Commons
But these citizens are the embodiment of resilience and though they are now scattered, they're determined to rebuild. Their journey to recovery has provided our resilience planners with a remarkable case study as we observe how they come together, what services they need, and what solutions they organically develop in response to community needs.
What is a resilience hub?
By definition, a resilience hub is a community-serving facility that supports residents and coordinates resource distribution and services before, during, or after a disruptive event. It's that place in your neighborhood that you would turn to, whether it's an existing building that establishes a sense of familiarity and comfort, or a mobile location that arises in emergent need.
But at its heart, a resilience hub can be much more than that. It's a place that is dedicated to helping people grow and create a flourishing future. It is the nourishing heart of a community and when it is at its best, it is infused with a vibrant energy that is as unique as the community itself.
In order for a resilience hub to function well during a disruption, ideally, it's a place that is populated and frequented by the neighbors who live around it. With this in mind, the resilience planners at SERA worked on a vision of resilience hub design that operates in three modes: everyday, during a disruption, and during recovery.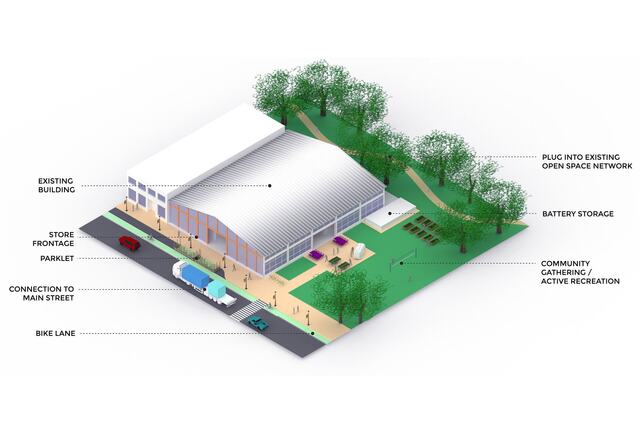 One possible resilience hub arrangement
The programming, resources, and services at a resilience hub need to transform, depending on the current condition of the community. This flexibility should be built into the design, and this fact inspired the team to envision a modular approach that would allow communities to create and access the resources they need most, and even access other services at nearby hubs that together create a resilience network.
Here's a picture of how it works.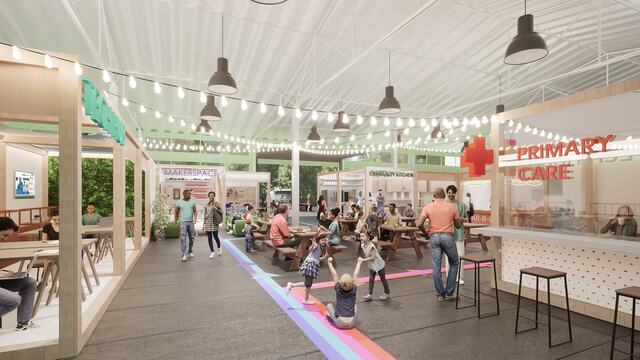 Daily life in a resilience hub
Everyday
When a community location is visited every day by many members of the community, it becomes a fixture—a place that people think of when they're seeking community support. During day-to-day life, people may turn to this place for social connection and to provide for some of their day-to-day needs. Some of the programming options that could serve those needs are:
Health clinic
Community kitchen for events
Technology hub (with public computers and internet)
Playground
Community gathering spaces, for youth activities and cultural events
Space for vendors, for a weekly farmers' market or flea market
The idea is that if going to these places is a part of people's daily lives, they'll be more comfortable and familiar with the space during disruption, when they need it most.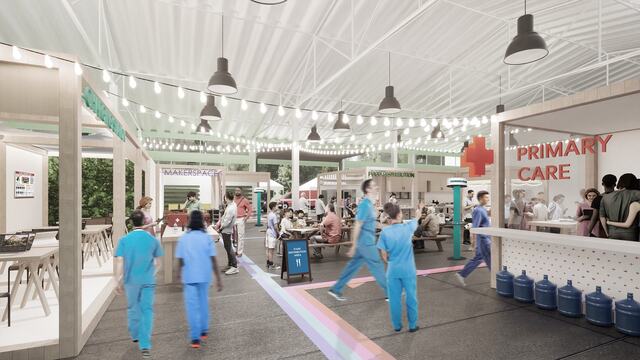 The resilience hub during a disruption
Disruption
During a disruption, to serve the needs of a community in crisis, the hub provides for basic human needs, like clean air and water, food, shelter, and power, while the programming spaces transform to meet other urgent demands. The hub supports the community by working in tandem with response teams from FEMA, the National Guard, and other government agencies.
Urgent care clinic
Meal distribution
Communications center
Designated family meet-up areas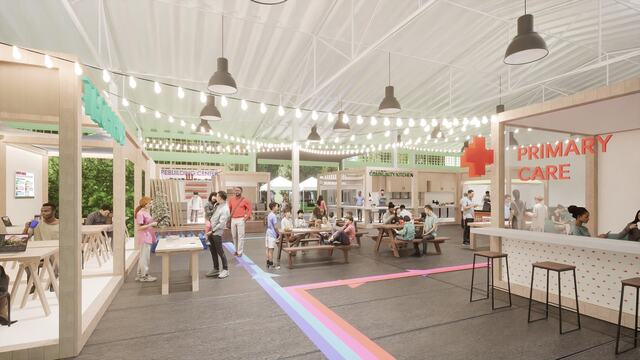 Providing essential services during the recovery
Recovery
As a community rebuilds, its needs change again. People are still striving to meet foundational needs and they need to pool resources and rely on each other. The resilience hub can transform to support these needs, too.
Mobile medical clinic
Weekly food bank distribution
Tool and resource lending library
Community organizing space—an outdoor movie theater, pop-up bar or coffee shop
Pop-up food carts
Temporary mobile structures to support necessary rebuilding businesses like real estate, estate planning, insurance and legal, district services, and mobile planning offices.
On-the-Fly Solutions in Greenville
Greenville is one community that has been solving these problems out of urgent necessity. As our team envisioned a modular, flexible, warehouse-like structure that would allow for programs to move in and out of easy-to-build structures or existing buildings, the community of Greenville has been building almost exactly that! Our team was astonished to find that the solution naturally and organically arising in Greenville is so similar to their design. Such satisfying proof of concept!
Greenville now comes together at a location in the center of town they call The Spot. The Spot started with a food cart, but it's now grown to be a collection of modular buildings that provide space for community gatherings and pop-up services. As the community continues to rebuild, the offerings at The Spot can grow and evolve. This flexible, responsive approach to resilience is exactly what our resilience planning team imagined would serve the community best and we're inspired to see it coming to life in Greenville.
All of this innovation and problem-solving just shows that Greenville is quickly approaching its goal of becoming The Most Resilient Small Town in America.