SERA at Galleria: Professional development through human experience
SERA was recently recognized as an Emerging Professionals Friendly Firm by the Northwest and Pacific AIA, and we have no doubt that our Galleria office will continue to make SERA a great place for interns and young professionals to learn and grow their careers far into the future.
Because when it's done right, an office is a healthy, supportive place that nurtures the growth, development, and well-being of employees. This ennobled vision is at the heart of SERA's reason for investing in an in-person office.
Experience and growth, side-by-side
Where else can interns learn from seasoned experts and new employees soak in the culture of the organization? Galleria's design maximizes those opportunities, making those interns and new employees happy, while also appealing to recruits. As we watch, learn, and improve, we develop insights that translate to our workplace client projects. We're invested in this process, not just for the sake of SERA employees, but so we can help our clients provide for their workers, as well.
We recently had some inspiring conversations with new SERA employees and interns about how their work has been enhanced by the Galleria office.
A community and culture with heart
It's not easy to build a community over Zoom. An in-person office lets people connect in subtle and meaningful ways. Lead Administrative Assistant Bridge Donnelly remembers their first day at SERA, which happened to be opening day at the new office.
"I was so nervous the night before my first day that I cried. After years of working in the service industry, I worried that I wouldn't fit in with the more traditional, corporate setting. But as soon as I got here and I saw one of my new co-workers walking toward me, I knew it would be fine. When you're in person, you don't need to talk to someone to sense their energy."
Bridge said that it was the collection of "micro-interactions" that helped them to understand and appreciate SERA's culture.
Concierge Brandon Bassett also came from a service background, and he's currently in school studying urban planning. Though his current position at SERA is administrative, he appreciates the opportunity to learn more about his chosen field. He's been able to learn by looking over shoulders and having coffee with people who are currently doing the work he aspires to, and he loves that SERA supports this. "SERA considers everyone's talents. They want you to grow."
Career development in action
Intern Ruby Nadeau worked in the office for just a couple of weeks before heading back to school, but it was enough to make her realize the value of the Galleria office as a learning venue. "I learned about the concept of universal design by experiencing it. Using Galleria's wellness rooms and varied seating options showed me how valuable they are and how those elements can be integrated into design."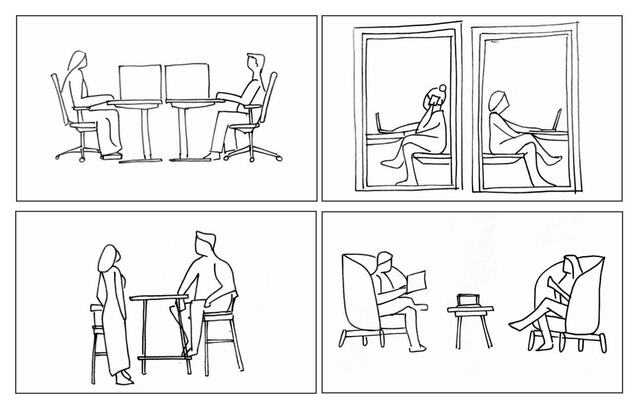 These sketches show the varied working posture options at the Galleria office.
Ruby also appreciated SERA's open office, hoteling desk design that allowed her to sit side-by-side with more experienced professionals. She described a time when she was having trouble with the modeling software program Revit. "I was grateful that I could just turn to someone and ask for help. I knew it was probably something really simple because I was brand new. If I had been working from home, it would've felt silly to schedule a call to get help."
New employee UD+P Project Assist Matt Craven echoed Ruby's sentiments.
"As a recent graduate, I want to learn as much as I can. People much further along in their careers are sitting just a desk away. They check in on me, and when we're working on projects, we collaborate. [Senior Designer] Martin [Glastra van Loon] comes over to my desk and gives me feedback in the moment, and as I watch him sketch, I can follow his thought process. I learn so much this way."
Matt also appreciates learning about design features by seeing them in action. Throughout his day he pays attention to the energy systems, material use, water systems, daylighting, and biophilic elements of the space. The building provides an experiential case study that will inform the work Matt does in the future. "It's all a remarkable learning experience."
"An inspiring, comfortable environment"
Though SERA's hybrid policy would allow Matt to work from home, he chooses to come into the office nearly every day. In fact, this summer, when Matt was considering job offers, SERA's office was a big draw when compared to the hybrid work environments at other firms.
Matt appreciates the Galleria's well-curated, thoughtful space. "Everything is here for me to be comfortable, save money, get out of my apartment, and get outside. It's an inspiring, comforting environment."
But Matt's commitment to in-person work goes deeper than comfort. Matt is passionate about cities, and he believes the work-from-home movement diminishes the vibrancy of the urban landscape. "Without other people around, working at home becomes stale. The urban environment is enlivening and inspiring. I want urban spaces to remain vibrant, and I come to the office every day to contribute to that vibrancy."
The urban landscape was a huge consideration when SERA decided upon the Galleria office. Even as Portland is in the revitalization process, the office neighborhood is active, and the transit-friendly location allows the firm to attract diverse employees and follow through on its commitment to equity.
Bridge also views the Galleria office as an opportunity to increase vibrancy and diversity. They pointed out that in-person workplaces allow organizations to provide jobs to people of varied education, experience, and socio-economic status.
"SERA never would have been able to bring someone like me in except that they needed someone in the office to clean up, wash dishes, and brew coffee. And now, that opportunity is giving me the chance to grow, get promoted, and have benefits I've never had before. It's way better than working in a sweaty kitchen and smelling like food at the end of the day!"