SERA's Offices: One firm's answer to the big workplace question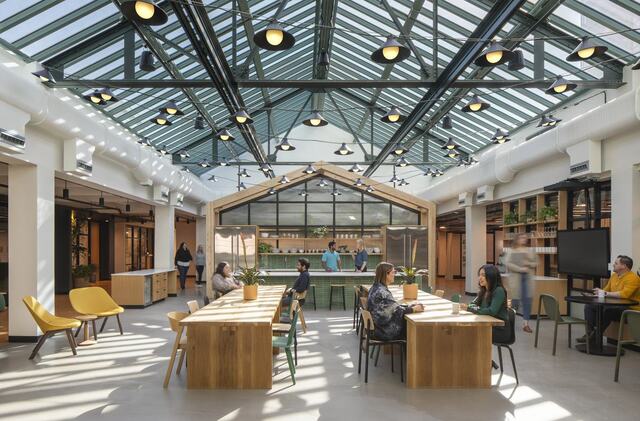 At SERA's Portland headquarters, the area under the skylight is the heart of the office.
In the wake of the world's forced experiment with remote work, employers everywhere are asking big questions about how to address modern workplace needs. We hear that "hybrid is here to stay" and that employees don't want to give up their work-from-home freedoms.
But we also hear that people like going to work and that premium office conditions entice employees and remind them of benefits that can only be gained at an on-site workplace. (Remember those spontaneous lunch break conversations? They're far more engaging than the ones you have in your home office with your pet cat.)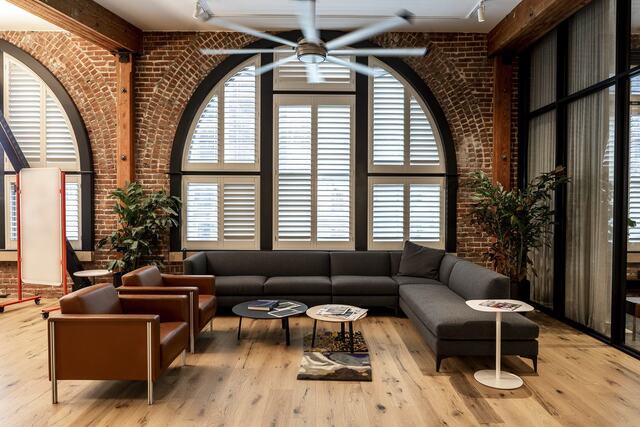 Oakland's historic setting presents a welcoming environment full of discovery.
Among employees, preferences vary. According to an August, 2022 Gallup poll, of the 56% of U.S. employees who can work remotely, 30% prefer fully remote, 60% want a hybrid arrangement, and 10% prefer to work entirely on-site. Balancing those preferences with business objectives and the established working rhythms of a productive workplace is no easy feat.
Especially in today's competitive labor market, employers are searching for solutions that make the most of workplace investment, optimize productivity, and, most of all, keep employees happy. But with so much change in the air, employers who want to create an inspired and intentional work environment don't know how to start, and they're left paralyzed with indecision and stuck with a working arrangement that doesn't work well for anyone.
SERA's biggest piece of advice for organizations in this situation is to courageously take a step forward with guidance from your company's values. Here's why.
Values-based decision making
The truth is that though everyone is asking similar questions, no one is approaching the solution with the same organizational biography, culture, or values as yours.
This is why, when SERA started asking the big workplace question, we dug into our understanding of our purpose and values, exploring how a workplace could help us, as a group, really live out our values statements. How can our office help us "make people's daily lives better" and "take responsibility for the past, present, and future of place?"
Ultimately, our solution–the recently opened Galleria headquarters–is a human-focused, sustainable workplace that beautifully expresses what SERA is all about. All project decisions, from the transit-friendly location to the all-electric adaptively reused building to the local artwork, were informed by a deep and thoughtful understanding of SERA's mission and values.
The result is an office that is uniquely SERA, created expressly for the employees who came to work here because these commitments are important to them. In the end, it makes perfect sense that our headquarters would become a physical expression of the culture, principles, and vision that define SERA.
In the coming months, we'll show how SERA's values provided the framework for the specific design decisions that created our answer to the big workplace question and how other organizations can use their own values to envision and create their own perfect solutions.