The Galleria: Celebrating SERA's New Space
SERA Architects is spending the summer of 2022 relocating to our new Portland headquarters. Our new home is a healthy, flexible, seismically safe workplace in one of downtown Portland's grandest historic buildings—and we're making this move at an auspicious time. After more than two years of working from home, the whole world is reflecting on why we even need offices in the first place—and with our new space, we're defining and exploring our answer.
SERA is in a truly unique position. Having designed workplaces for some of the world's most innovative employers, we now have the awesome opportunity to pursue an exceptionally healthy and sustainable workplace and apply all the research, planning principles, and our human-centered approach to design that we've honed for clients over the years. We also get to apply all of our more individualized values about human health, wellbeing, and productivity born from our own staff. It has been a fascinating—and challenging—project.
A Significant Move
Before we get into the details of how SERA plans to occupy the new space, we take this moment to celebrate how truly significant this move is for the firm.
SERA is connected historically to its new Portland home, the Galleria building, having worked on the building on multiple occasions over the years, and the 42,000-square-foot, fifth-floor space offers a rare, uninterrupted floorplate that spans a full city block and sits beneath a 60-foot-long skylight—an unexpectedly dramatic and attractive feature in a modern office space.
We know daylight is important for human health, and this one-of-a-kind skylight is a crucial element to our biophilic approach to healthy design. We've replaced the glass and upgraded the skylight to allow a goldilocks level of sunlight into the space – not too hot, not too bright, with the ability to make adjustments for a just-right experience. A hat-tip to our crack visualization team for helping us test a number of tints, frits, and sky conditions to hone in on this optimal design. The abundant yet comfortable natural light provides an amazing experiential moment in the center of the space.
Our decision to locate SERA's headquarters in downtown Portland is also significant. We're proud to continue our commitment to the city, and we are thrilled to have found a downtown location that offers an unmatched quality of life for employees by maximizing transportation, accessibility, recreation, public space, and food options. We believe in cities, and this move is consistent with our commitment to density, accessibility, and ease of movement for all.
Our move to the Galleria is consistent with SERA's core values as a firm that is committed to reducing climate change by minimizing climate impacts through adaptive reuse of the historic building and by choosing healthy materials and sustainably harvested wood. We continue to prioritize employee health by investing in exceptional air quality and thermal comfort, maximizing the flexibility of open office areas, and implementing technology strategies that can maximize the experience of both in-person and remote collaboration, including working and socializing in real time with our Oakland Staff.
Why do we need an office to begin with?
At the outset of the pandemic, the sudden move to working from home was daunting, but our amazingly resilient staff worked through the challenges and we made it work with what we had. We mastered virtual meetings and patched together the systems and technology necessary to produce the kind of exceptional design work our clients expect from us. Over time, we got comfortable with this new normal, but we always lacked the kind of seamless, creative, collaborative explosion of insights and ideas that comes from being together.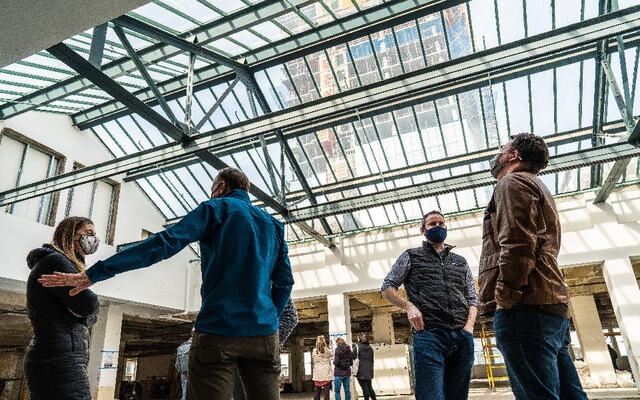 SERA staff tour the Galleria space under construction, November 2021
We recognize that working from home has its benefits, but being together face-to-face reduces the kind of latency from an all-online experience. Conversations flow more seamlessly between topics, and there are no "You're muted" admonishments in real life. Together, we can move efficiently between topics, come to consensus more quickly, and maintain readily available exposure to opportunities, ideas and people that we simply don't have access to alone in our home offices.
Quality control is also harder to manage when we're remote, not only at SERA but across the architecture, engineering, and construction (and many other industry) sectors. In-person engagement is also essential for mentoring and training. One of SERA's key employee growth benefits as a firm is that we've always chosen to sit together, and we have no corner offices. The most junior person on the team could sit between a principal and a designer and a project manager. Physical proximity creates so many moments that can inspire and inform one's career path, from observing the design process of a more senior person to overhearing the resolution of a difficult conversation with a vendor, or simply by observing the time management strategies employed by the people around you. Working together in a shared space inspires social bonds and leads to bursts of creativity and collaboration that simply aren't possible when we're isolated at home.
Built Environment is Vessel for Culture
Like many of our clients, SERA will take full advantage of the new, flexible, open workspace to fundamentally change how we work. Our new office will feature a blend of assigned and unassigned desks, as well as a multitude of non-desk spaces in which to work, giving team members the highest level of choice to personalize their experience throughout the day.
In conjunction with the changes to the physical structure, we are also updating our technology solutions. By moving to a laptop environment and changing how we connect to software, we will fully optimize our hybrid work structure. These changes will allow for maximum flexibility while also drastically reducing our energy usage by shifting computing power to cloud-based solutions that enable 24/7 access to software and equipment from your laptop.
With these changes, people will be able to move seamlessly from their home offices to the downtown office and then from desk to project room to café to back porch without having any technology glitches or interruptions to the flow of work.
Post occupancy, our Sustainability Resources Group and Workplace studio will track metrics to understand how the space is being used and how the building and space are performing. We'll solicit staff perceptions on an ongoing basis to gather feedback about how the new physical systems support work habits and how to make changes and improvements based on that feedback. We know that everything won't be perfect on day one, but we've put the tools and processes in place to test our plans and practices and experiment with new solutions.
The built environment–in all its detail and glory–is a vessel for culture. In selecting the Galleria, we chose a beautiful, flexible space that will allow our culture to flourish and make people want to come to work at SERA.