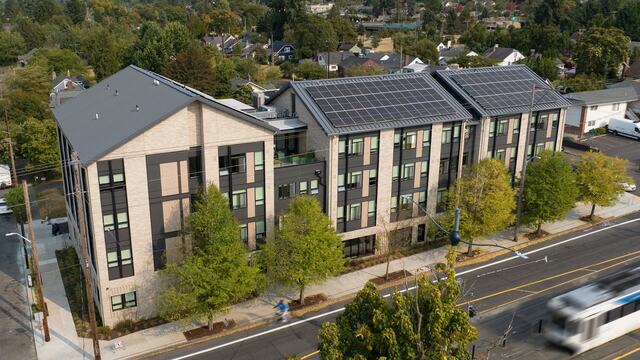 Hattie Redmond Apartments
A joint venture between Home Forward and the Urban League of Portland, the Hattie Redmond Apartments provide culturally specific housing for the chronically displaced BIPOC community most in need of stable housing and support.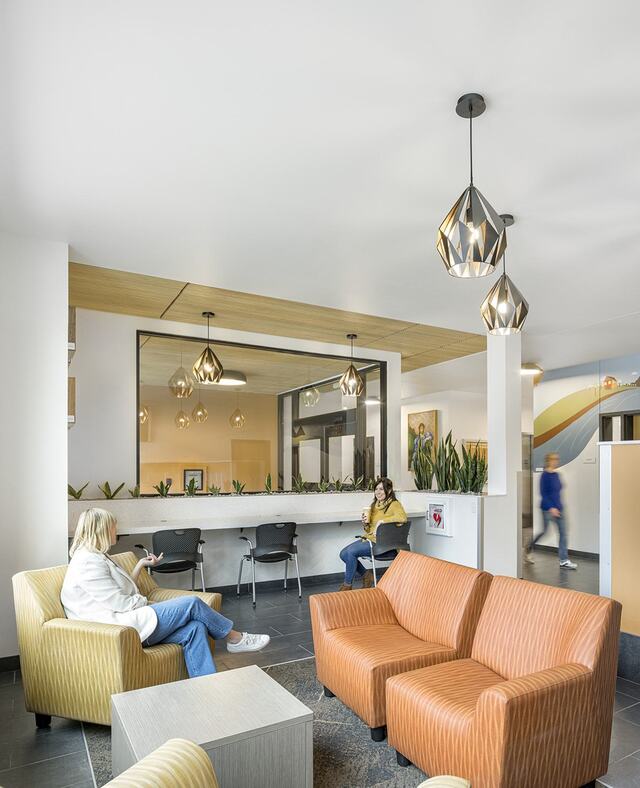 Details
Name
Hattie Redmond Apartments
Client
Home Forward and Urban League of Portland
Scale
60 units
Status
Completed 2023
Location
Portland, OR
Funding
Oregon Housing and Community Services (OHCS), Oregon Health Authority (Governor's PSH Initiative), and Low-Income Housing Tax Credits
Services
Sector
Connectivity, community, and comfort
Hattie Redmond, named for the historic black suffrage activist, is sited in a North Portland neighborhood that has its own history of segregation. The design team focused on equity as a guiding principle in their work. Services are designed to help folks regain purpose and dignity, living in an area they may once have called home. An on-site team will include a resident services coordinator, case managers, and peer support specialists from both Home Forward and Urban League of Portland.
Culturally relevant artwork that speaks to the community
Notable artist Daren Todd provided public space murals and coordinated a group of other Portland-based BIPOC artists to amplify the voices of those often over-represented but underserved in the keyless community.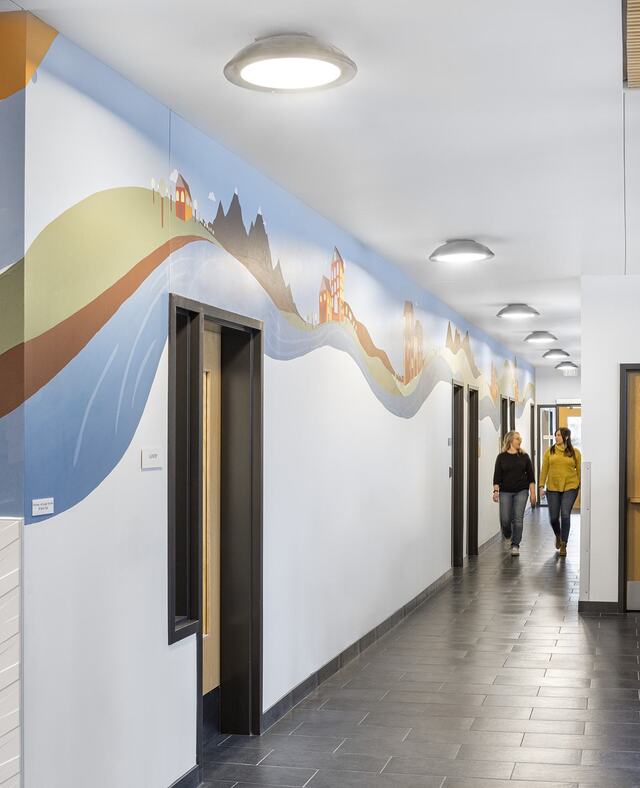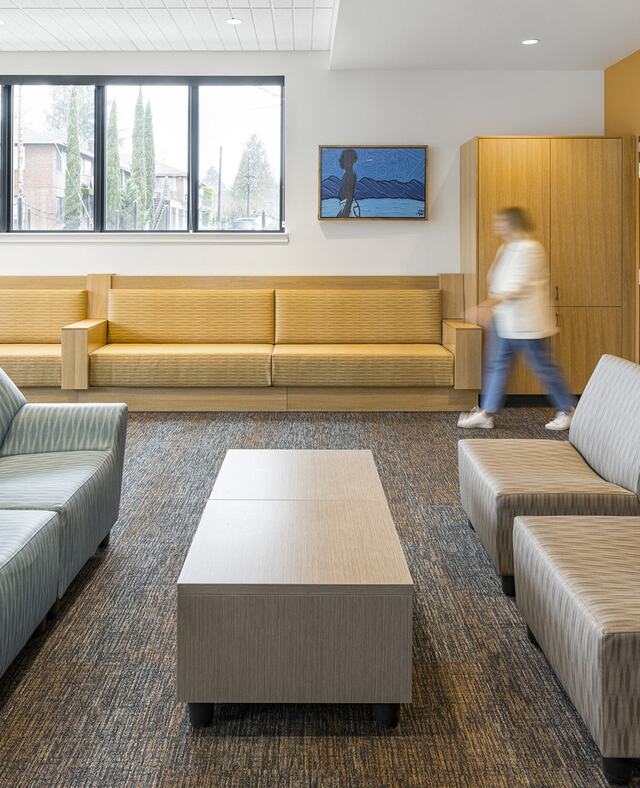 A biophilic, trauma-informed design
Calming geometries, ample windows, rich landscaping, sheltered outdoor space and dedicated decompression areas for staff optimize a stress-free environment where healing and recovery can take place.
Community collaboration, even during a pandemic
To foster design conversations during the global pandemic, the team held a series of virtual meetings with the community, neighborhood association, and prospective residents and staff. These discussions not only informed the project's goals and aesthetics but set a positive precedent for neighbors wary of new development. The final design represents the interconnectedness of the Hattie Redmond Apartments to its community, with gable roofs that honor the single-family homes of the neighborhood.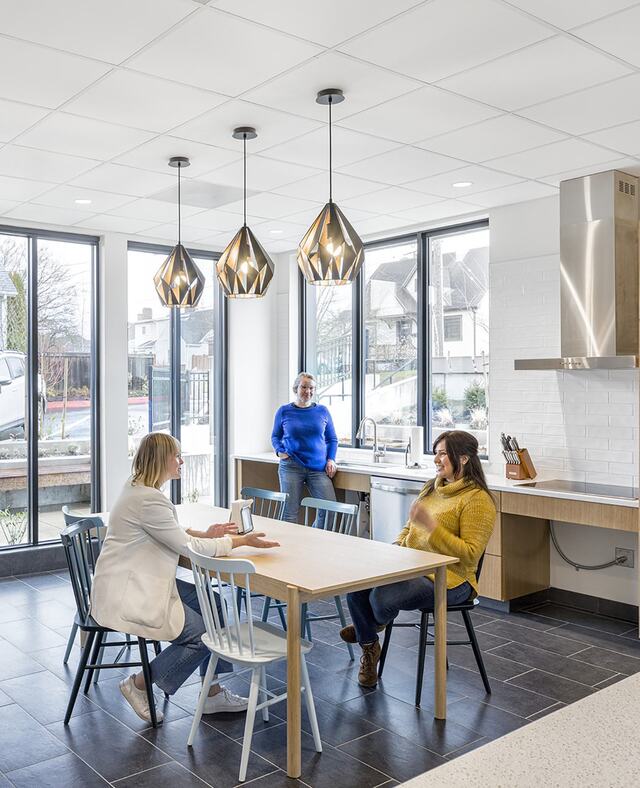 A generous resident lounge and community kitchen that connect the indoor amenity spaces to the outdoor BBQ and play area
Residents can host family, friends, and neighbors to nurture relationships and support human connections both old and new. The community kitchen will also have a pantry and refrigerator stocked with healthy foods from the Oregon Food Bank, specifically for the residents' needs. Cooking demonstrations and resident dinners will also be a continuing activity at the Hattie Redmond Apartments.
Bikes and transit: Options for getting around, and then returning to a peaceful home
An abundance of bike parking will help create an active, well-connected residential day-to-day experience while the use of healthy materials and biophilic elements create an instinctual calm and caring environment, ensuring a sense of stability and a brighter future ahead.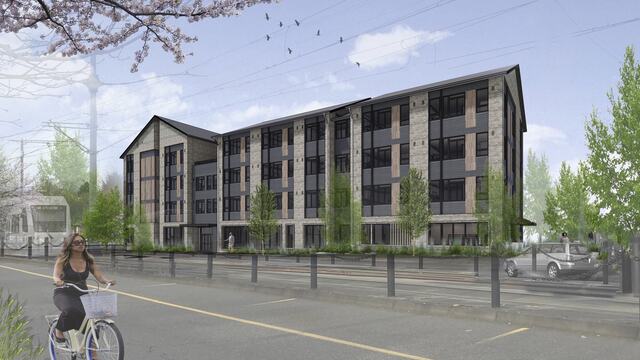 "The building design includes features that address barriers to remaining safely and stably housed. Services like these, provided by people who understand the needs of unhoused Black and Brown folks, will make a huge difference for people exiting homelessness. "
Nkenge Harmon Johnson
Urban League of Portland Executive Director