Reminiscent of old-growth forests, trestle bridges, and rain-slicked basalt, the Hyatt Centric is uniquely Portland, inside and out.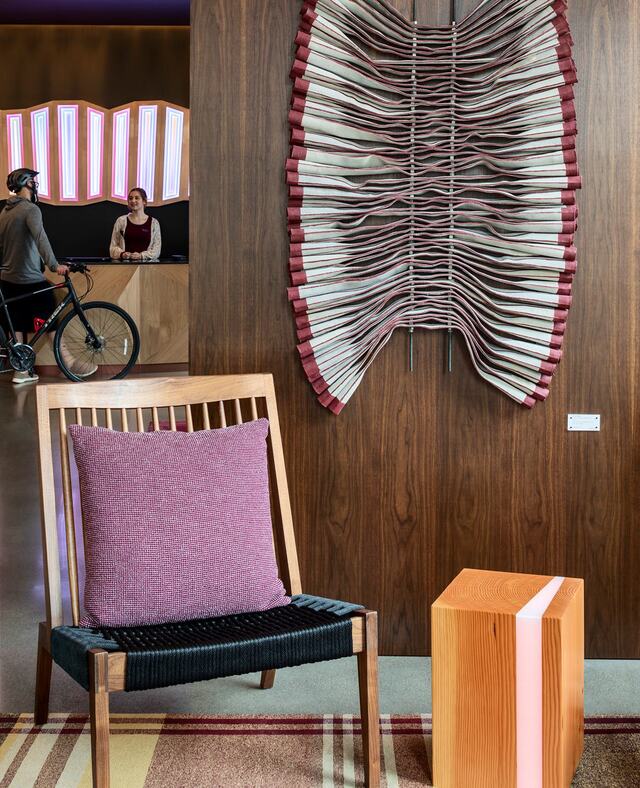 Details
Name
Hyatt Centric Portland
Client
Mortenson Construction and Development
Scale
16 stories, 220 guestrooms
Status
Completed 2020
Location
Portland, OR
Services
Sector
Biophilia at the heart of design
A 15-story contemporary boutique hotel designed as a gateway experience to the most recognizable Northwest experiences, the Hyatt Centric Portland is a building that embraces biophilic principles such as spectacular views, references to majestic forests, use of native materials, and a constantly changing character in response to daily and seasonal cycles of the micro-environment.
Health-giving natural connection
To be happy and healthy and lead meaningful lives we need contact with nature. Our environments impact us, just as we impact our environments. With natural materials, local art, and organic patterns that evoke an experience of the surrounding natural world, the Hyatt Centric satisfies guests' longing for healthy connection with nature.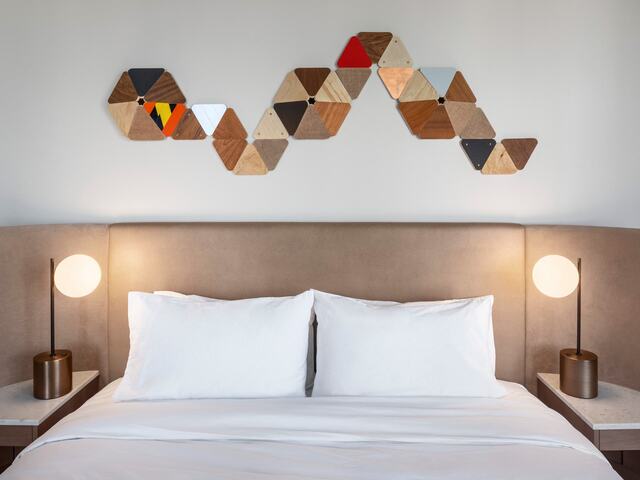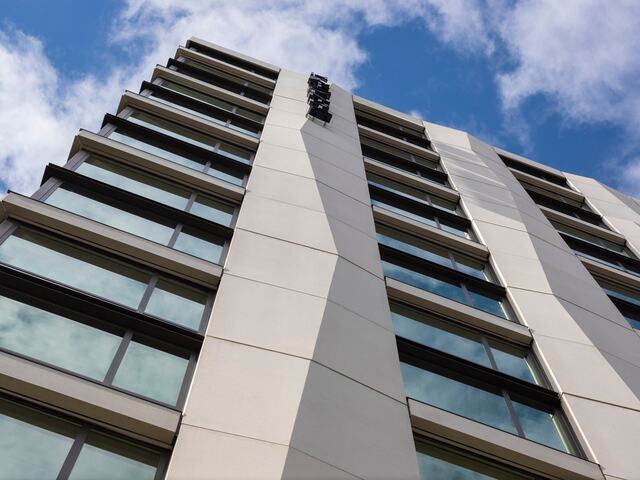 A basalt exterior that transforms every day
To capture the expansive range of light in the Pacific Northwest on the greater hotel façade, the design team found inspiration in native basalt. Known for its dynamic geometry, the volcanic rock provides a shape-shifting appearance throughout the day. Likewise, the hotel's skin gives the building a monolithic look under cloud cover, while producing dynamic shifts of light and shadow in direct sun. In the rain, the slick exterior captures and reflects light from its environment.
Bringing the outdoors in
The interiors of the hotel embrace the community's natural wonders — immersing guests further into the exploration of the Portland spirit through local art, patterning, materiality, craftsmanship, color, and cultural "Easter Eggs" hidden throughout. Dynamic gathering areas like the lobby's "Basecamp," or the poem-carved bench along the facade, beckon people outside to come in, and those inside to venture out.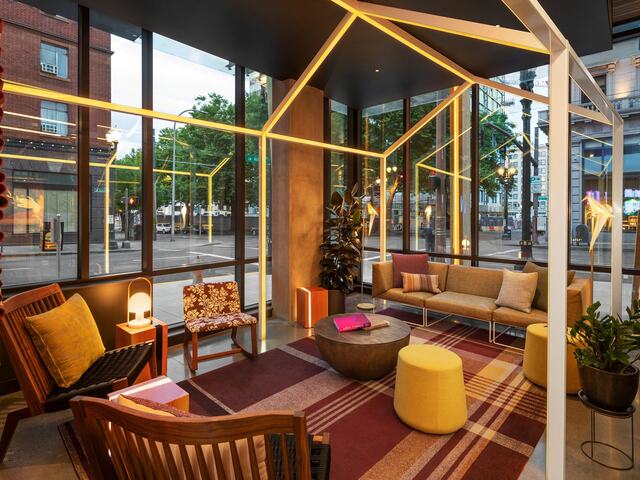 Connection to nature, in an urban environment
Like the trestle bridges and old-growth forests of the region, the hotel mass appears supported by a colonnade of irregular wooden trunks — an "urban forest" that shelters public areas. The regional connection extends to the interior spaces through local art, craftsmanship, and color.
"I love the interaction of the exterior design, which to me is very kinetic, with the interior design. There are so many synergies between the two, which makes for a pretty holistic design. It was very rewarding to be part of the design process."
Connection to the land
The Hyatt Centric Portland is a hotel that connects travelers to a rich, sensory experience of Portland that goes deeper than sightseeing.