North Valley Complex Renovation
With the goal of establishing a future-facing, fiscally responsible long-term investment, the State of Oregon set out to transform an existing warehouse in Wilsonville into a holistic, functional home for several state agencies.
Details
Name
North Valley Complex Renovation
Client
Department of Administrative Services
Scale
176,892 SF
Status
Under Construction
Location
Wilsonville, OR
Sustainability
Targeting LEED Silver Equivalency, SEED Project, 1.5% Green Energy Technology (GET)
Services
Sector
Specialties

Given the industrial nature of the existing site and building, there was intentional focus on bringing a human scale to the voluminous warehouse and introducing natural light and biophilic materials.
Assessing an important purchase
SERA conducted a property conditions assessment and worked with DAS EAM on defining the building programming to explore the best options for repurposing a 175,000-sf industrial building that was being considered for purchase. With the intent to house several government agencies and reuse some of the existing building infrastructure future growth, the space was re-imagined to suit the spatial and programmatic needs of each tenant.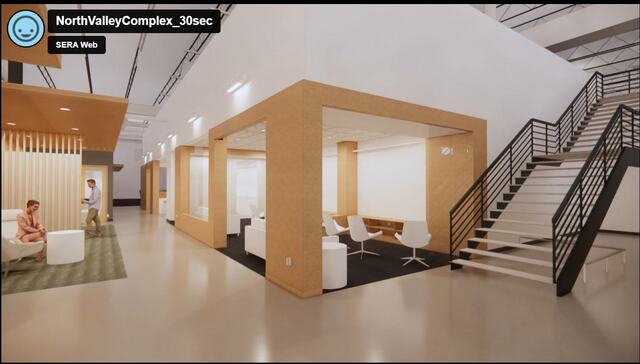 Visualization tools helped us imagine the space and convey the design to the client.
Designing workplace neighborhoods
The design team transformed the large floorplate into identifiable neighborhoods for each laboratory tenant, with touchpoints on the common edges providing shared support spaces. The video allowed stakeholders to see the envisioned space and how they would collaborate together.
Creating connections throughout the space
By thinking of the tenants as "residents" we envisioned blocks, streets, and public spaces to support connection.
Distinct spaces punctuate and bookend long corridors, adding interest and enhancing wayfinding through the labyrinth of lab and warehouse spaces.
Financial stewardship and fiscal responsibility–integral to public work
Design concepts must work within budget constraints and serve multiple purposes. Paint accents and colored markerboards add design identity while keeping costs low. Wood accents were salvaged from logs damaged during a 2020 wildfire.
Resilience and safety
The existing tilt-up structure will be enhanced to perform at immediate occupancy structurally, and non-structural components will be re-anchored to perform to current life safety standards. Additional redundancy features, such as power backup and end-of-life equipment replacement, will be included in the renovation.
Once completed, the North Valley Complex Renovation will consolidate disparate, functionally obsolete laboratories while achieving operational and cost-sharing efficiencies, promoting cross-agency collaboration and providing stable facilities for years to come.
A forward thinking partnership
SERA's longstanding partnership with the Department of Administrative Services includes ongoing work on the North Valley Complex to renovate and repurpose the space for more collaboration and resilience for the future.