In summer of 2020, amid the COVID-19 pandemic and mass racial justice demonstrations, the Oakland Black Business Fund connected SERA with neighborhood nonprofit Oakstop to help the organization take short and long-term steps toward reopening and expanding its space.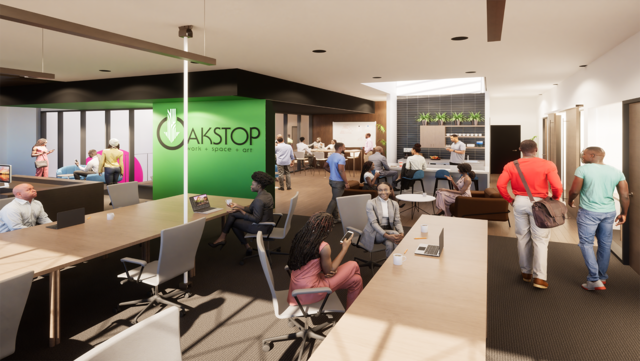 Details
Name
Oakstop
Client
Oakstop with Community Arts Stabilization Trust
Location
Oakland, CA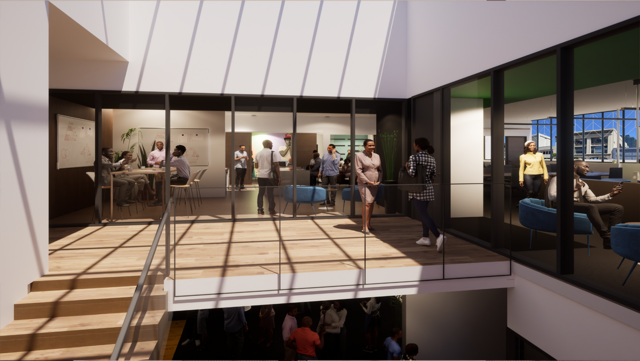 Oakstop, a co-working, art, and event space, has been a tenant within the historic Mary Bowles Building in downtown Oakland since 2014. With a larger vision for the building, Oakstop founder, Trevor Parham, tasked SERA with repositioning its second-floor space for a post-pandemic reopening, while also outlining the sequential moves in a master plan that would see the transformation of the multi-tenant building into Oakstop's primary headquarters. In 2023 Oakstop partnered with the Community Arts Stabilization Trust and closed the deal on the building purchase that will be used for the economic development and empowerment for entrepreneurs and communities of color.
SERA designed a balance of open and closed environments with the flexibility for adapting to users' needs over time. To meet patterns of that work have changed since the pandemic, Oakstop's clients will have options for open desking, individual office suites, and meeting and event spaces for large groups. In our design, collaboration spaces are centered below existing skylights to anchor work, meeting, and social functions in natural daylight. When Oakstop expands to fill the entire building, the centerpiece of the space will be a new two-story atrium filled with the work of Oakland artists. This space will connect all of Oakstop's program areas and bring the organization's identity to street level, where it can engage the community along the vibrant Broadway thoroughfare.