Creating a bold landmark at one of the city's busiest intersections, Orchards provides community-focused housing for a diverse Southeast Portland population.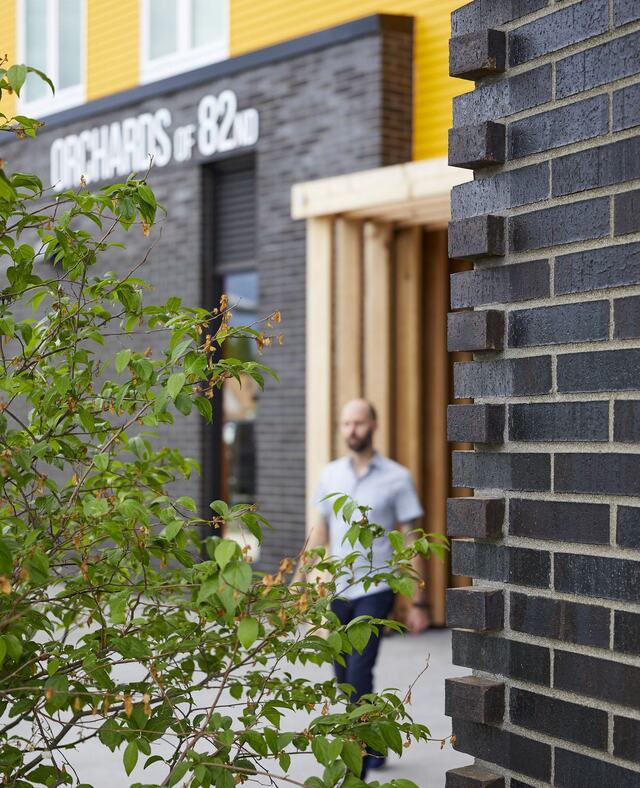 Details
Name
Orchards of 82nd
Client
ROSE Community Development
Scale
48 units, 52,000 SF
Status
Completed 2019
Location
Portland, OR
Funding
Oregon Housing and Community Services, Portland
Sustainability
Earth Advantage Platinum
Services
Sector
Specialties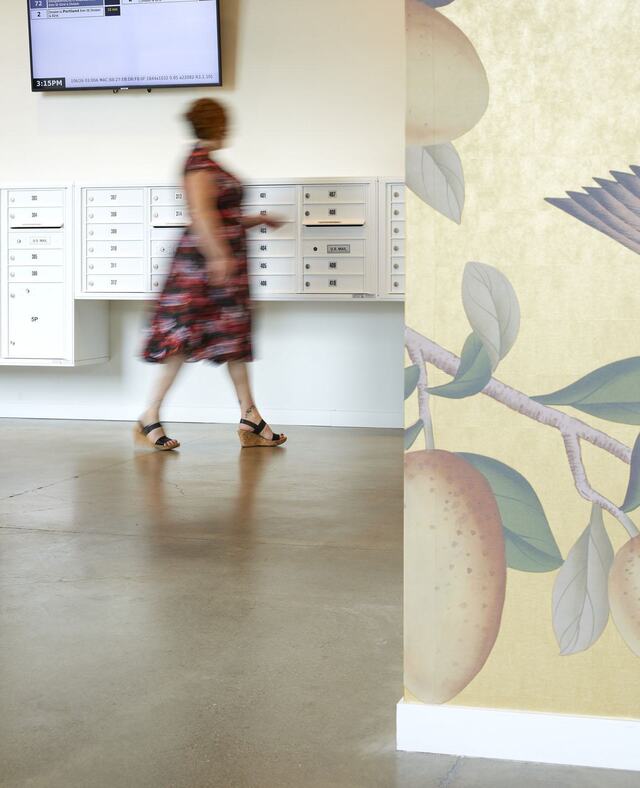 Identified as a priority site by the Jade District Visioning Plan, Orchards was designed to reflect the shared goals of the plan, as well as those of APANO, ROSE and the community.
The community voiced ideas at a series of SERA-led open houses. Those goals included new greenspace, community gathering space and a safer pedestrian environment.
Meaningful partnerships create remarkable projects
SERA teamed with ROSE Community Development, Asian Pacific American Network of Oregon (APANO), Housing Development Center, and O'Neill/Walsh Community Builders to provide an integrated design and build of this mixed-use, affordable apartment building in outer southeast Portland.
Over 5,000 SF of ground floor community space owned and managed by APANO
The final site design reflects the thoughts and visions of the surrounding neighborhood as well as input from APANO and Rose Community Development to establish a meaningful presence and create community activities in the Jade District, and allow for events like this APANO festival.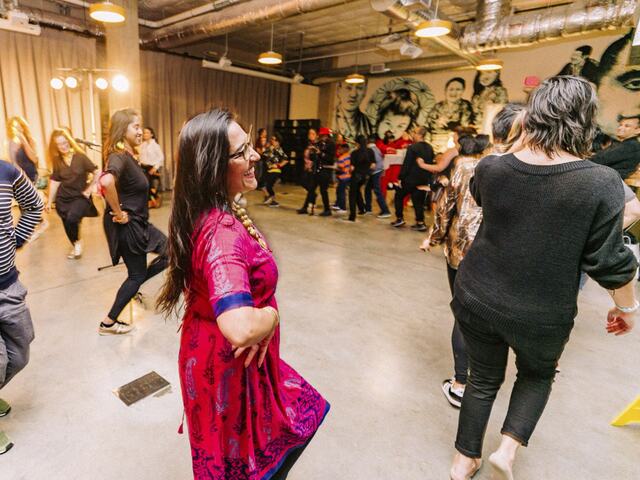 Family-focused and child-friendly
Orchards features a mix of 48 one-, two- and three-bedroom units ideal for young families, and supports ROSE's Baby Booster Initiative aimed at improving quality of life for children in their first 1,000 days. The ground floor is activated by a community lounge and learning space, in addition to the multicultural event space owned and managed by APANO.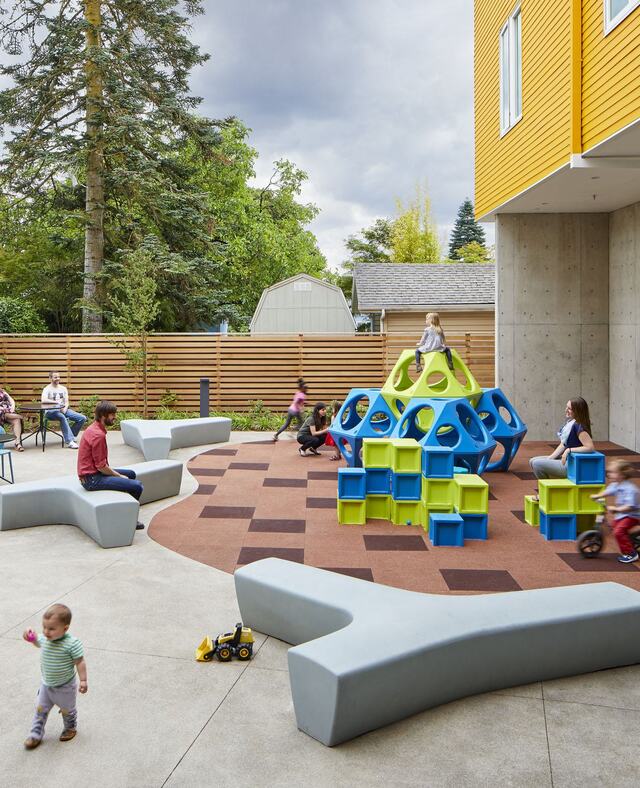 A front-facing public plaza and a south-facing playground courtyard
This project was awarded funding by Oregon Housing and Community Services and the Portland Housing Bureau for tackling the issues of displacement, affordability, dangerous pedestrian conditions, and revitalizing suburban neighborhoods. Metro contributed the land and funding to this transit-oriented development. The courtyard serves as the social hub and provides a unique space for residents to engage in a range of activities from large and small gatherings to tai chi classes or children's play.
Stability, permanence, and meaningful social connection
Above the community outdoor space, brilliant residential stories shine atop a masonry ground floor that signifies strength and permanence.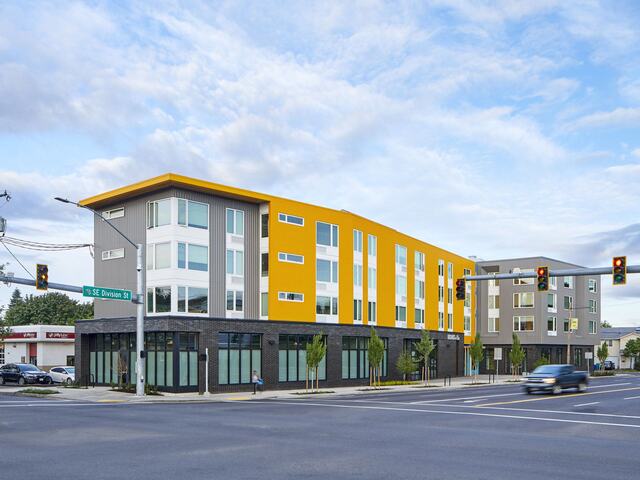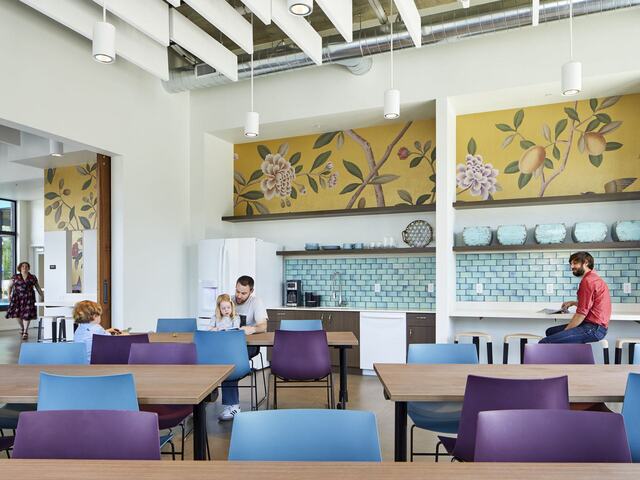 Refreshing interior spaces
The interior design focuses on light-filled, garden-like spaces, creating a meditative and restorative environment.
Awards
2020 Earth Advantage Affordable Housing Project Team of the Year